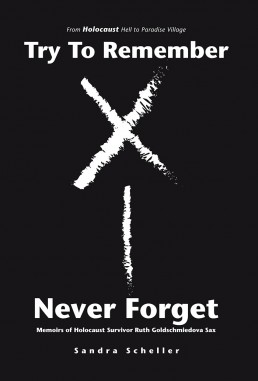 Try to Remember-Never Forget
Ruth Goldschmiedova Sax's life story begins in Moravia in 1928, where she lived comfortably as an only child with her parents, who were shopkeepers. The family moved to Brno. When Ruth turned 11, the Nazis invaded Czechoslovakia, and life changed for everyone.
By 1941, the family found themselves getting off a transport train in Theresienstadt, where Ruth was forced to grow up quickly. Separated from her father, she survived awful circumstances, only to be sent to Auschwitz in 1944, where she faced Dr. Mengele half a dozen times. Here she was shaved to prevent lice infestation, wrapped her feet in paper to keep them warm, and witnessed the deaths of many.
Finally reunited in 1945, the family made their way back to Brno, and Ruth later migrated to America, where she married Kurt Sax, whom she had met at age 7. This memoir narrates the dramatic life circumstances that led Ruth Goldschmiedova Sax from her birthplace in central Czechoslovakia to three concentration camps and, finally, to her home in America.